We get tons of calls every year from people trying to get pricing on a new paver patio, retaining wall, outdoor kitchen, built in fire pit, ect. Many people have no idea what kind of cost they should be expecting for these types of jobs; and understandably so since there are many variables that go into the cost of these projects. Let me first start off by saying that our average size patio, usually incorporating a fire pit, seating wall, landscape lighting, some new planting and yard repair is in the $30k-$40k range. We compete jobs from the $15k range up to around $100k. If you look at our "starting at cost" section you will be able to see what some of the different parts of the project costs.
When creating a quote for a new outdoor living area there are many variables that come into play. Let's start from the ground up to help you get a better understanding of the construction process and the average costs associated with creating a new outdoor living area.
Site access
How accessible is the project site? Do you have a fenced in back yard with a smaller gate? Do you live in a town house or condo where your neighbors block access to both sides of your house from the front? Are your neighbors property lines so close to your house that we will not be able to get a full size machine or dump truck into the back of your yard? Do you live on a busy street where parking equipment and materials out front is not logical or safe? Will getting to the project site require us to drive equipment up a steep grade? OR do you have a wide open and flat project area where trucks and equipment can easily access and get close to the worksite?
The harder it is to get our equipment and materials to the job site (which is usually in the back or side yard) the longer the job is going to take and the more man hours we will expend.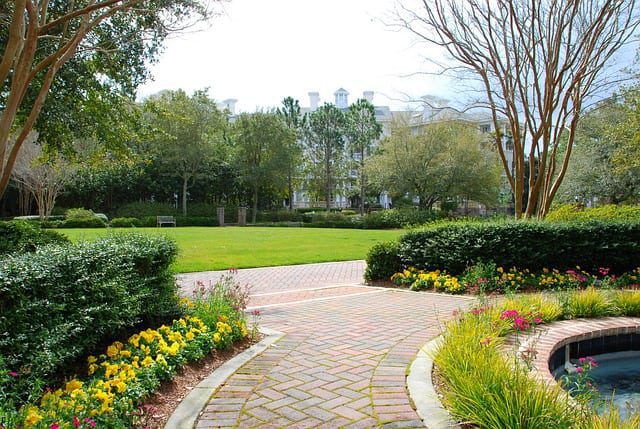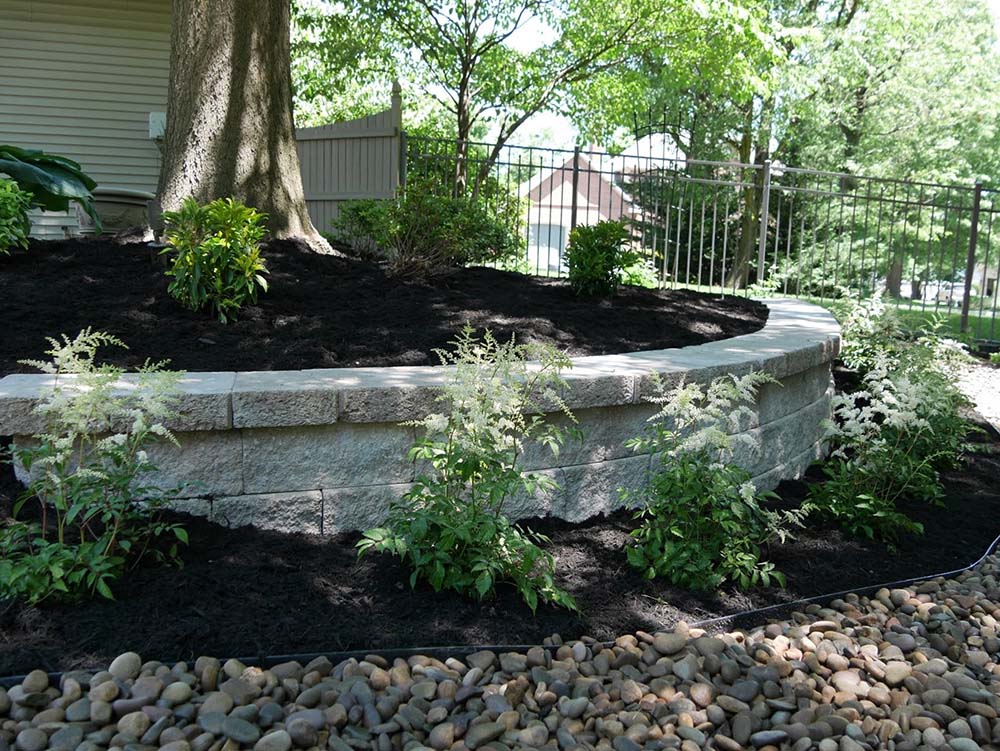 Grading
what is the slope like in the project area? Do you have a flat area or does is slope off to one side or the other? If your project area drops in slope more than 12" from one side to the other you most likely will need to add a retaining wall to keep the patio and the stone base underneath from eroding away over time. Walls are a beautiful accent to your project but they will add to the cost.
Soil conditions
There are 3 main soil classifications: Sand, Silt, and Clay. In central Pennsylvania we have predominantly clay soil.
What does this mean for you?
Clay holds moisture and does not drain. Why is this bad? Any soil that holds moisture and is above the freeze line will heave when the temperatures drop. This means that we need to make sure your stone base thickness is sufficient to withstand these freeze thaw cycles. Our average stone base thickness is thicker than probably what you would find in the South where they don't have to worry about freezing temperatures and probably have more of a sand or silt soil. Bottom line more stone= more $. BUT don't worry; stone is one of the least expensive parts of the project. On the other hand your base is one of the most important; so make sure your contractor puts in writing the thickness of their stone base. We recommend a minimum of 5" but 6"+ is better.
Clay does not usually compact sufficiently on its own without amendments. Think of clay particles as hot dinner plates that have just come out of the dishwasher and still are slightly wet. When you stack them on each other they slide around very easily. This is what happens when you try to compact clay. It just slides out from under the compactor making ruts in the dirt but never really getting hard and compacted. In order to correct this you can change the atomic structure by adding an amendment like type s mortar. This will create a chemical reaction and change the composition of the soil making it more rigid and compactable. Type S mortar is generally a cheap fix but again it is very important because if you don't get the correct compaction on the sub base it can cause problems with the whole system.
Township requirements and rain water runoff plans
Some townships may require you to pull a permit for a hardscaping project. If any part of a retaining wall is over 4' you usually will need a permit and an engineered design. Usually if the patio is over a few hundred square feet you will need a rain water runoff permit. For bigger projects you may also be required to get an engineered rain water run off plan ensuring the water that runs off the patio will be reintroduced into the ground and not ending up in the public storm drain systems. Sometimes this requires building a dry well or making the pavers a permeable system. All townships are different you should consult with a representative before you agree to any project plans.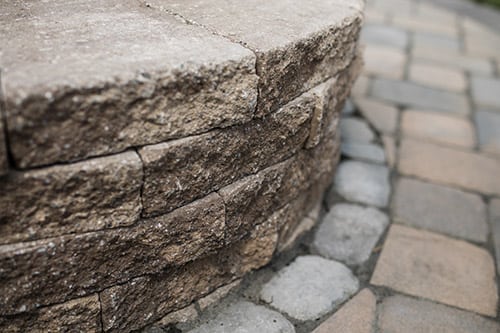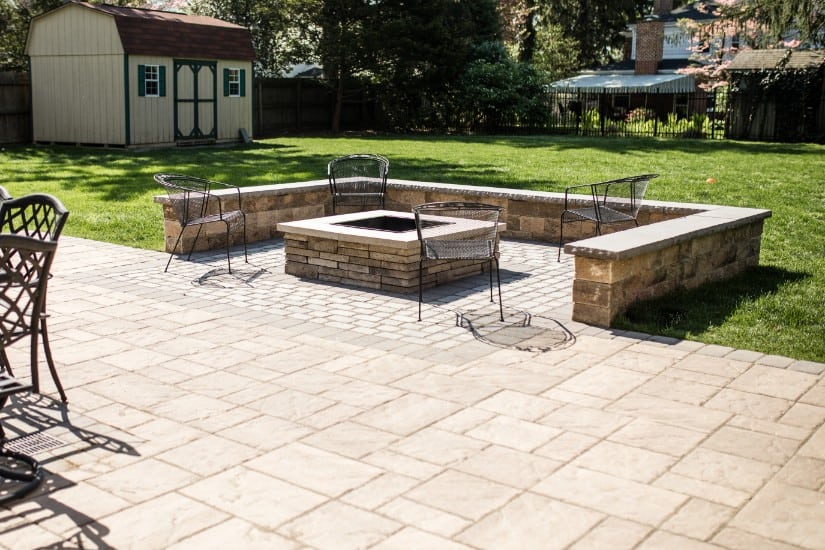 Materials
Hardscape materials have come a long way in the past 15 years. There are a wide variety of sizes, shapes, colors, and textures of materials to choose from. We use exclusively Techo-bloc and Unilock products. These brands are high quality products that have a lifetime transferable warranty on their materials. The price range on pavers are generally $3/ft2-$13/ft2 which could make a big difference on the price of the project. With the brands we use the price does not reflect the quality of the paver or wall block it has more to do with the manufacturing process and how easy or difficult it is to produce and also other factors. For one example a simple brick paver is about the least expensive per ft2 because they are all exactly the same size and texture the plant can produce them easier and more quickly. Whereas a more custom paver with different sizes and colors in the mix will tend to be more expensive.
Fire pit: Gas vs wood
Fire pits create a great ambiance to an outdoor living area at night as well as giving warmth on those cooler nights making your space usable for longer during the season.
Wood fire pits are less expensive starting around $1,200 installed. You can get smokeless steel inserts with these which help keep smoke from blowing in your face. With wood fire pits you can really get a raging fire going on the very cold nights and put out some serious heat. However they can be a little bit dirtier with the soot and ashes and will need to be cleaned out occasionally. Also, we've all had the experience of trying to get a fire going with wet wood. If you're not careful to keep your wood pile dry it may be difficult to get a fire going after some rain or snow.
Gas fire pits are becoming more common in our hardscapes. Gas fire pits will have the same shape and design of their wood counterparts but will come with a gas insert to be installed. Gas fire pits start at around $3,500 installed. Gas inserts can tend to be a little safer eliminating flying embers in the air. With gas there is almost no maintenance. You can turn it on and off with the twist of a knob; which is great when you just have an hour or two to spend outside and you don't want to go through the trouble of getting a wood fire going and waiting until midnight for it to safely go out. You can upgrade to a push button or a remote control to start/stop and control size of the flame. You can also decorate the interior of the pit with fake logs, lava rocks, or even different colored glass which will glow as the flames dance around it. One thing to keep in mind with gas is that you may notice a difference in heat output compared to a wood fire.
If you would like to experience how the smokeless insert works or how much heat you can expect from a gas insert we have a great display area that we can take you to at our exclusive supplier, Watson's Supply in Harrisburg.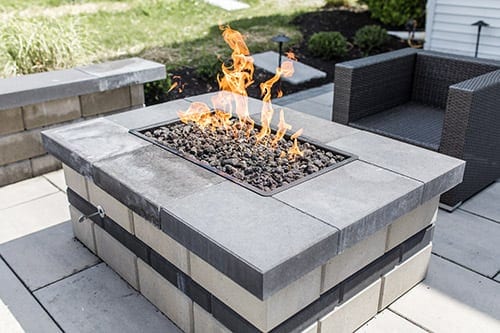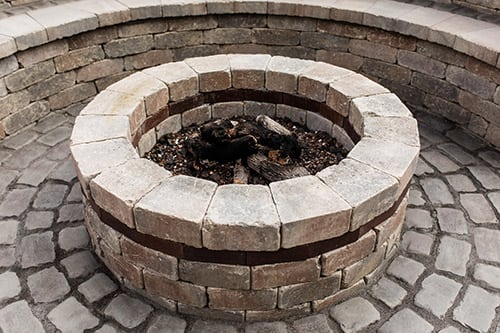 Outdoor Kitchen/Grill Island
If you are creating an outdoor area where you will be entertaining and hosting events, the outdoor kitchen makes a lot of sense. These additions to the hardscape are completely customizable as far as shape, size, appliances, and counter tops. Our grill islands start around $10k.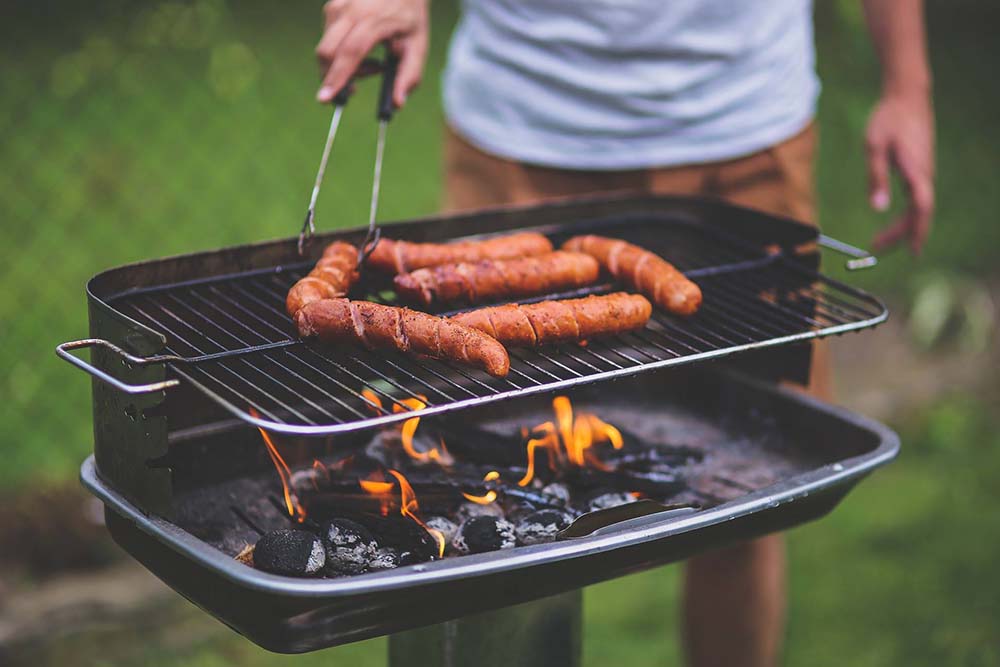 Countertops
Many people don't realize that countertops can be the biggest price variable in a grill island or outdoor kitchen. Since they will be exposed to the elements the less expensive types of countertops used in an inside kitchen are not acceptable for outdoor use. You will need to go with Granite, Marble, Natural Stone, or a pre-manufactured concrete top.
Granite can cost $50+ per sq/ft There are many different choices in color. The pieces are laser measured and cut to fit your custom project.
Natural stone tops can start as low as $30/ft There are less color variations to choose from but they have a beautiful natural stone finish. These can be custom measured and cut by the distributor or can be cut onsite.
Pre manufactured concrete copings can start as low as $27ft2. These are pre-manufactured pieces usually 2'x3' by the paver manufacturer which the contractor cuts onsite while building the kitchen. The nice thing is you can integrate the same color blends as you are using in your wall block or pavers. They make the size and shape of the kitchen a little bit less customizable because of the standard one size. They also chip and scratch much easier than natural stone and granite.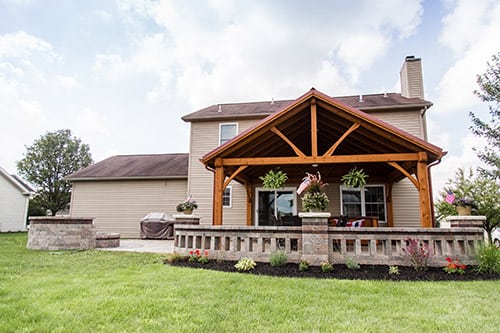 Pergolas/Pavillions
When you have a spot that gets a lot of sun a pergola or pavilion make a lot of sense to help you escape the summer sun and heat.
Pergolas have an open roof structure which reduce sun exposure dramatically and can also be improved by adding lattice or a cloth roof woven between the ceiling beams. Pergolas start around $6,000 installed. They are traditionally constructed from pine or cedar but can be made from vinyl which is more expensive but needs less maintenance. There are also upgrades for privacy walls and roof options.
Pavillions are similar to pergolas but usually have a solid roof. These may start around $10,000 installed. Again you can choose from wood or vinyl as well as choose shingles or metal roof.
With both options you also have the ability to add electrical outlets, lighting, fans, and a sound system.
Landscape lighting
Out of all the hardscaping options that you consider we recommend landscape lighting as a must. Landscape lighting will extend your use and enjoyment of the area after the sun goes down. We can install custom built in lighting fixtures that will give you a beautiful look and light in just the right places. LED lights give a bright and beautiful hue, use very little electricity, and have extremely long product warranties. (Some brands have lifetime warranties on lighting elements!) Many systems are set up to a controller to make them come on and go out automatically. New technology is available to control each individual light, its brightness, and YES even change its color all from your cell phone!
As you can see in the online store our lighting packages start as low as $1,475.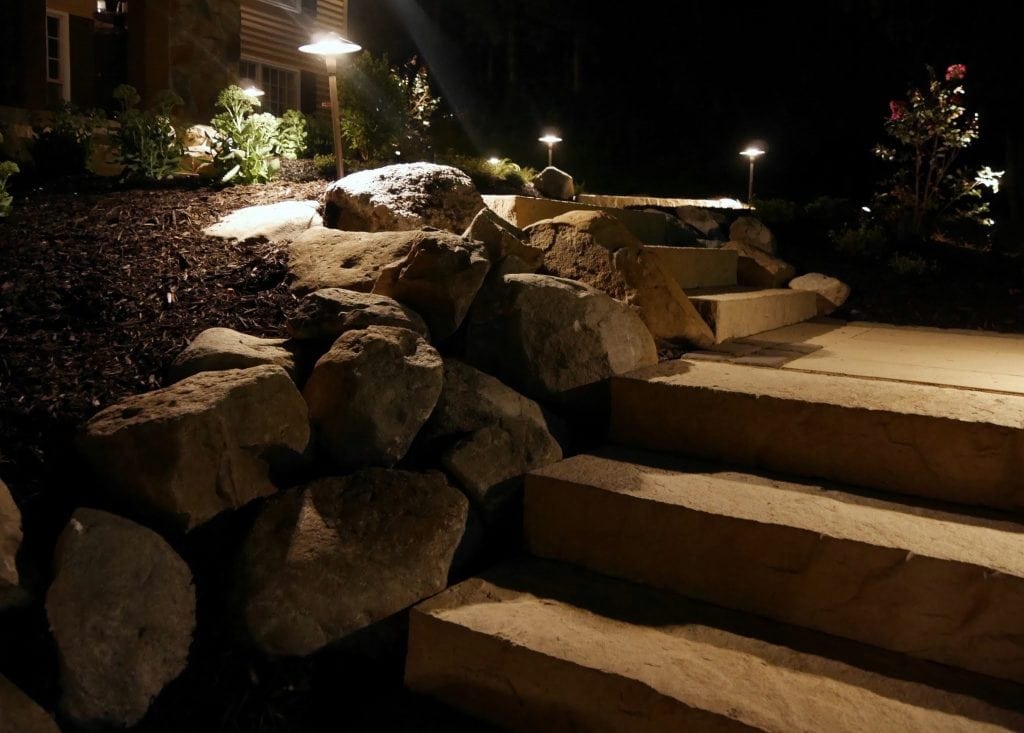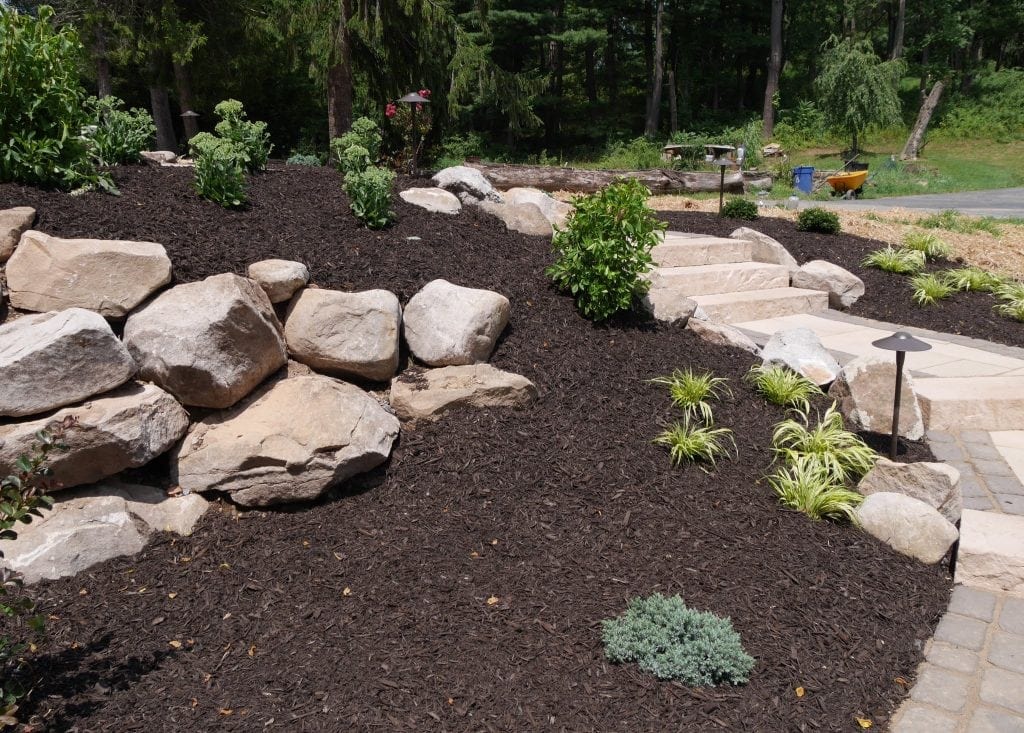 Planting
A new planting design to compliment your hardscape is a great finishing touch to an amazing project. We can help you with the design, layout, and installation of this final detail and warranty your plants for one full year. Prices for landscapes will vary depending on the size of your beds and plant selection and will normally start around $2,000.
Yard repair
Many people don't realize what a big part of the job is in the yard repair and clean up at the end of the job. Driving heavy equipment across the lawn several times a day moving materials in and out from the street to the work site (which more often than not is in the back yard) can make quite a mess. It takes rototillers, rock hounds, and usually several tons of topsoil to fix the site.
We usually include yard repair as a line item so that you can see how much it actually costs. For some motivated individuals this allows them the option of doing the repair themselves. Yard repair generally will add $2,000+ to the project depending on seed or sod installation.
For the repair you pretty much have 2 options: Seed or sod.
Sod is our preferred method of yard repair on a new install and here is why:
With sod you have instant gratification and basically 100% germination from day one. The job looks complete and picture worthy with the nice new grass cut into the nice new beds surrounding your new patio. With seed you have the chance of some seed not germinating do to weather conditions. You could also have seed wash away during a bad thunderstorm.
With sod there is no need for straw; which can blow into nicely manicured new mulch beds and on new patios.
With sod you can install late into the year when the probability of new seed germination is doubtful because of the low temperatures.
Sod generally can cost around $3/ft2 installed the larger the area the ft2 price starts to go down.
Seed is still a viable method of yard repair and it is about 1/2 the cost of sod. Just remember that watering is essential to seed germination and it can be difficult and time consuming to water large areas at a time. In hot summer months you could see a higher chance of seed not germinating or dying out before maturing. It may take some touching up or additional seeding in areas that do not come in full. We do not guarantee seed germination. Last, when starting grass from seed you will see a longer establishment period and do a lot more watering. Seed can take 14-28 days of watering to germinate and then will still need several weeks of watering and caring to make sure the newly germinated grass thrives. With sod, the establishment period is only about 2 weeks before it starts to become self sufficient.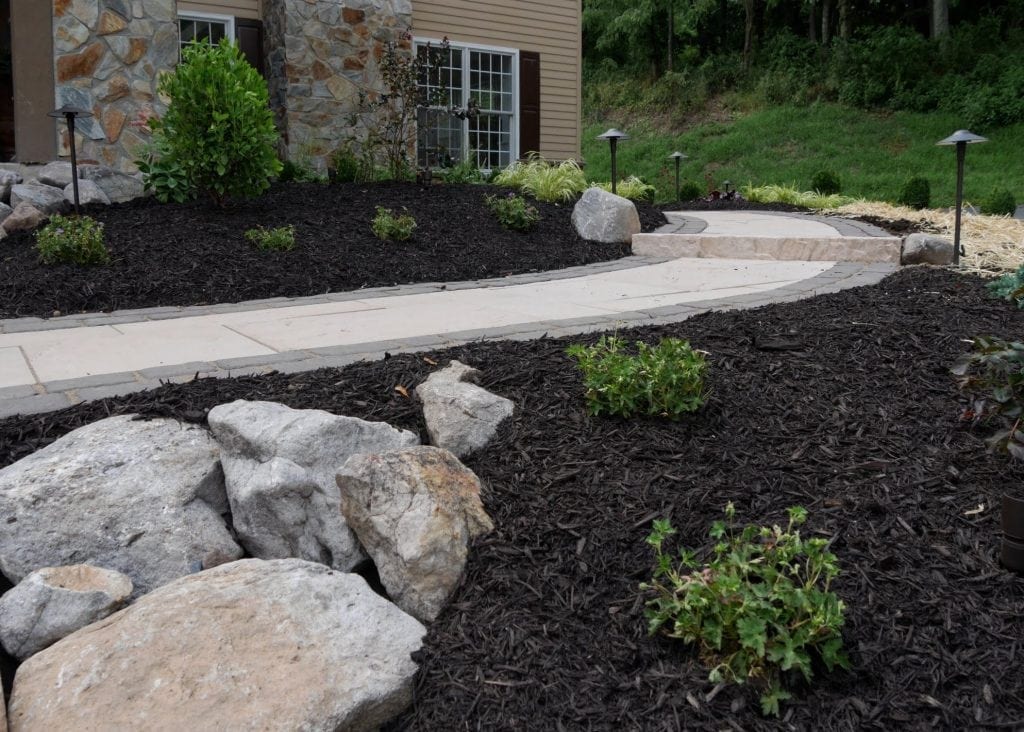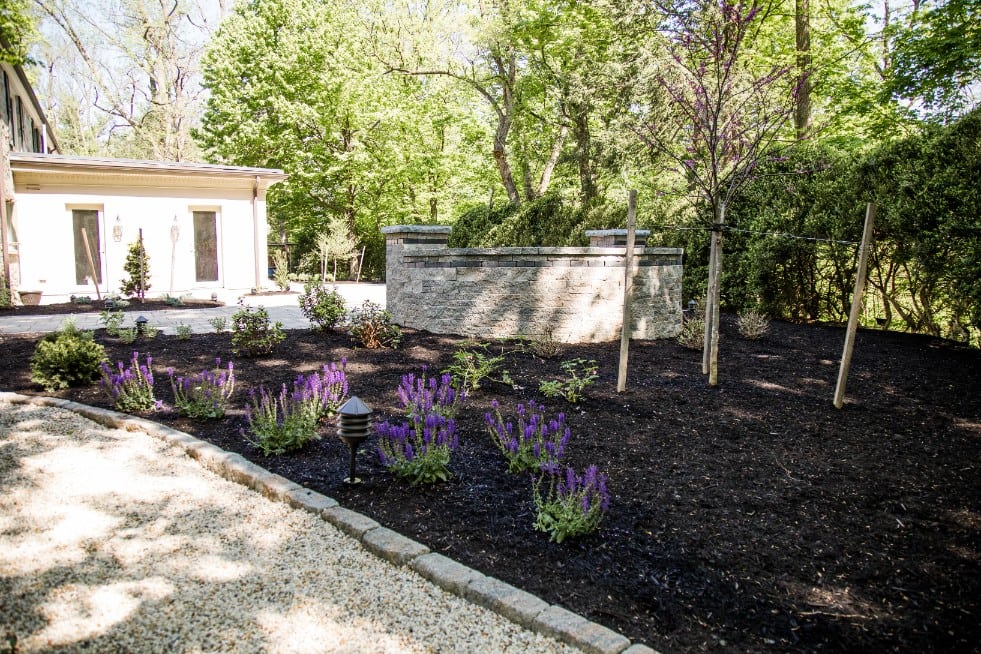 We hope this helps explain some pricing and how we will come up with the cost for your new outdoor living area. We look forward to meeting with you and scheduling the installation of your new outdoor paradise.